Here's my annual ShotShow report. Unfortunately my schedule was solidly packed for most of the show days and evenings. I barely got to see the show, only seeing what was between appointments. Still there's always piles of pixels to process, especially since I got to try out a spanky new Canon 60d that shoots video!
Media day at the range: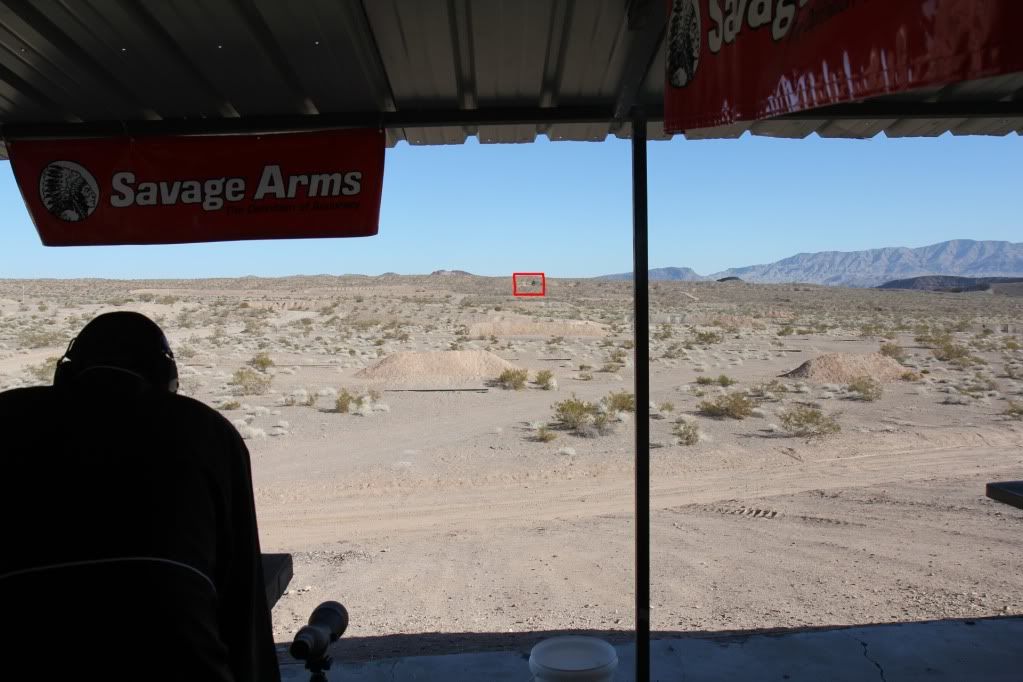 Media day at the very long range. Those little three pixel tall round plates downrange are at 1000yd. I got to shoot 300 Win Mag Savage Arms rifle, 0.338 Lapua Accuracy Int'l, and even the 0.416 Barrett out to this range. I have to admit that in a benched setting, hitting the plates at this range (even with a considerable crosswind) is quite reasonable given that I am a complete amateur. I wasn't perfect, but I was getting 2/3, 3/4, and 1/1 on the above rifles respectively. The last shot I took at this range was on the 0.416 Barrett and I was shooting at a 4" dia shotgun skeet laid out on the berm. The guys at Cutting Edge Bullets were showcasing their precision machined projectiles. I was talking their ear off about CNC swiss turning equipment (I have a fetish for the Swiss it seems). They gave me a go on their Barrett 0.416 setup shooting their precision rounds. I was settling down on one of the plates when their spotter asked me which skeet I was going to aim at.
That faint orange crap on the backwall just behind the furthest plates are skeet clays scattered about in case you find the plates are not challenging enough. I think those plates are about 24" in diameter which makes them about 2MOA wide. I reckon the clays are about 4" dia which makes them 1/4MOA. Up until now I have gotten hits on a 2MOA target at 1000yd a total of 2 (ShotShow 2011) + 2 (SS 2012) + 3 (SS 2012) = 7 times. 7 hits out of 10 bullets sent downrange at a 24" plate in my lifetime and they were telling me to shoot at a 4" clay. What the heck, I settled down and called out my target. I picked the lowest clay that happened to be sitting on it's own a foot or more from it's closest neighbors. I made a windage adjustment and sent the round. To my surprise, the 0.416 was pretty manageable. I managed to keep the clay in FOV and was rewarded with an eruption of dusty orange and brown crap. I couldn't believe it. The spotter thought I hit the lower left edge of the clay. There was a big line up gathering behind me so I should call it a day and give someone else a try. Why tempt fate and turn 100% into 50% or even worse: 33% sending subsequent rounds downrange.
I get the feeling that 1000yd is not all that big a deal with the right platform and a scope that has been carefully doped out by someone who knows what they're doing. I have to admit that those rifles I fired on the 1000yd range performed extremely well in the hands of a goofball.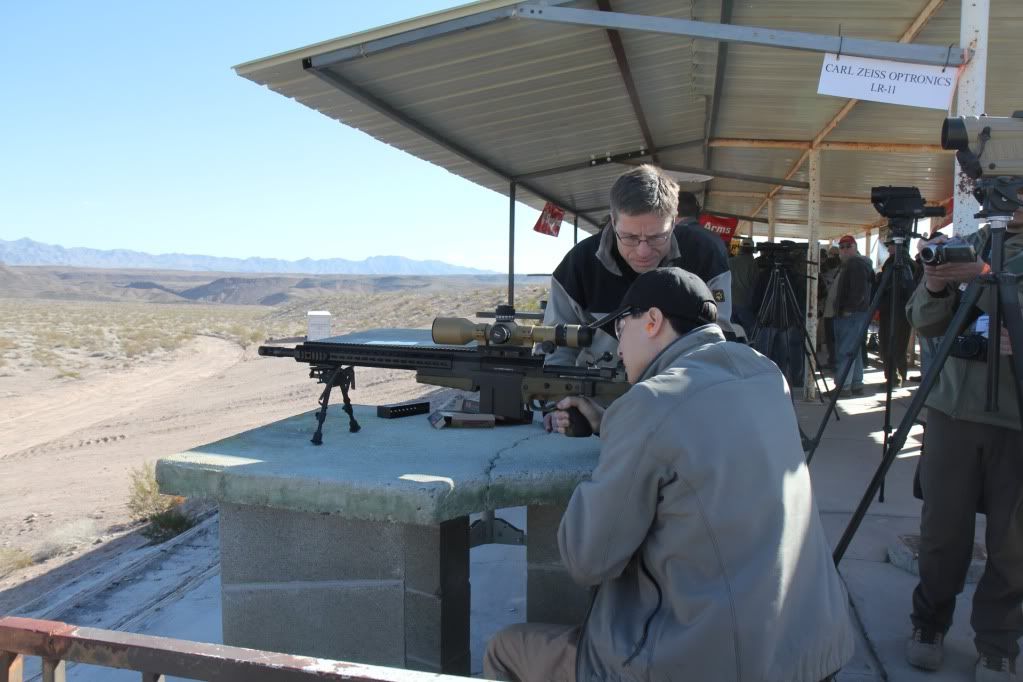 Me settling in on an Accuracy International AX338 with a prototype Zeiss 3.5-26x56mm scope. Reticle is front focal plane which means that the reticle is magnified as you zoom in for greater visual sensitivity. A nice short scope for it's zoom range. A bargain at $4k. I wanted their prototype. They probably blew over $150k on that thing. A beautiful optic on an extremely well performing rifle. On an airsoft rifle it would make our toys look like a machine in a softball batting cage throwing awesome knuckleballs every time.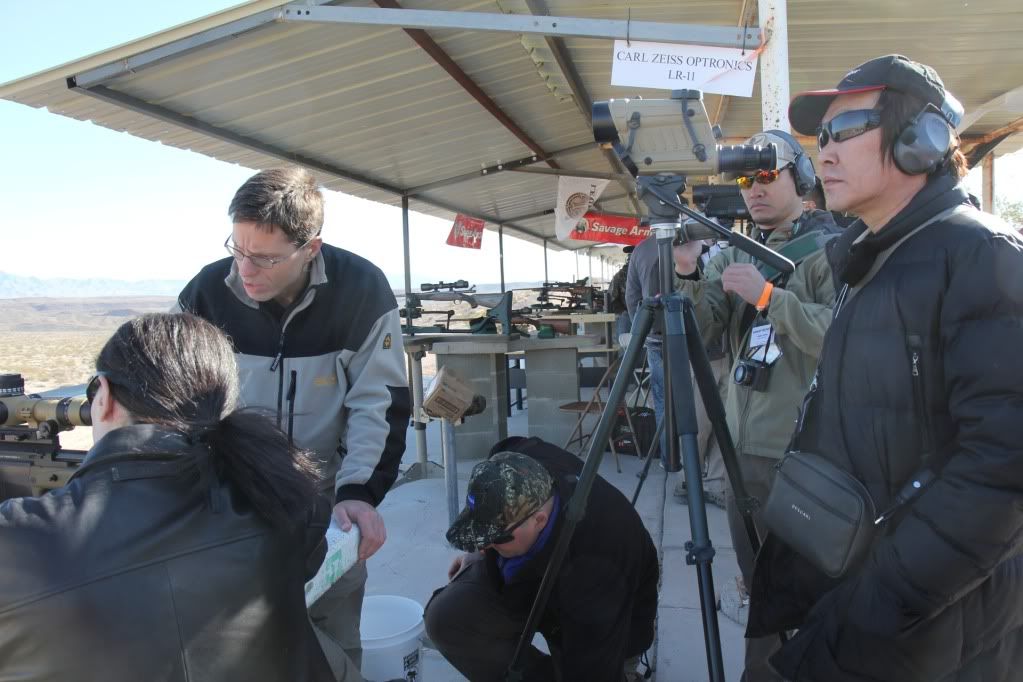 My friend Danny, a mod on AirsoftMechanics.com shooting at Zeiss Optronics. Also in attendance are Tirador and Mr. Yoshitake (owner of Echigoya shop!).
----------------------------------------
The nice folks at Colt introducing their remake 1877 Gatling gun. A beautifully polished hand cranked assembly of awesomeness. They call it a remake rather than a reproduction because they're the original shop bringing an old model back into production. Assembled from period materials with modern manufacturing processes, this beast is a collectors $50k wet dream. I tried shouldering the thing with Costa's high bore grip and asked the Colt rep if I could order a 1877 with brass RAS rails so I could mount a fancy Trijicon scope and he asked me to leave.
20 rounds through this thing certainly doesn't last long, but it really puts a grin on your face.
Not your usual coffee grinder! - YouTube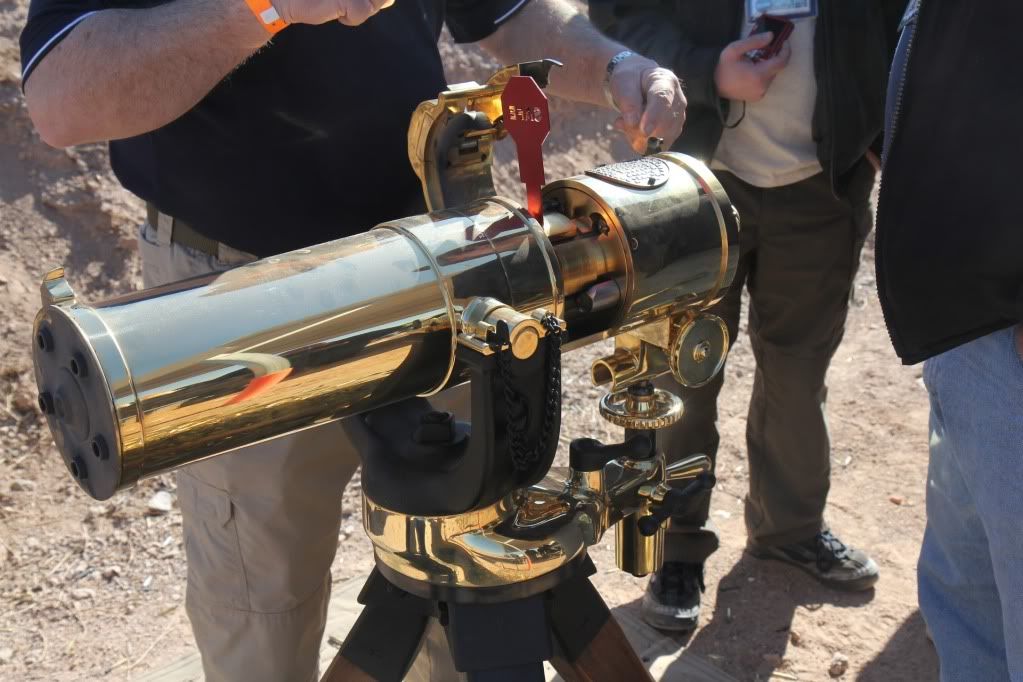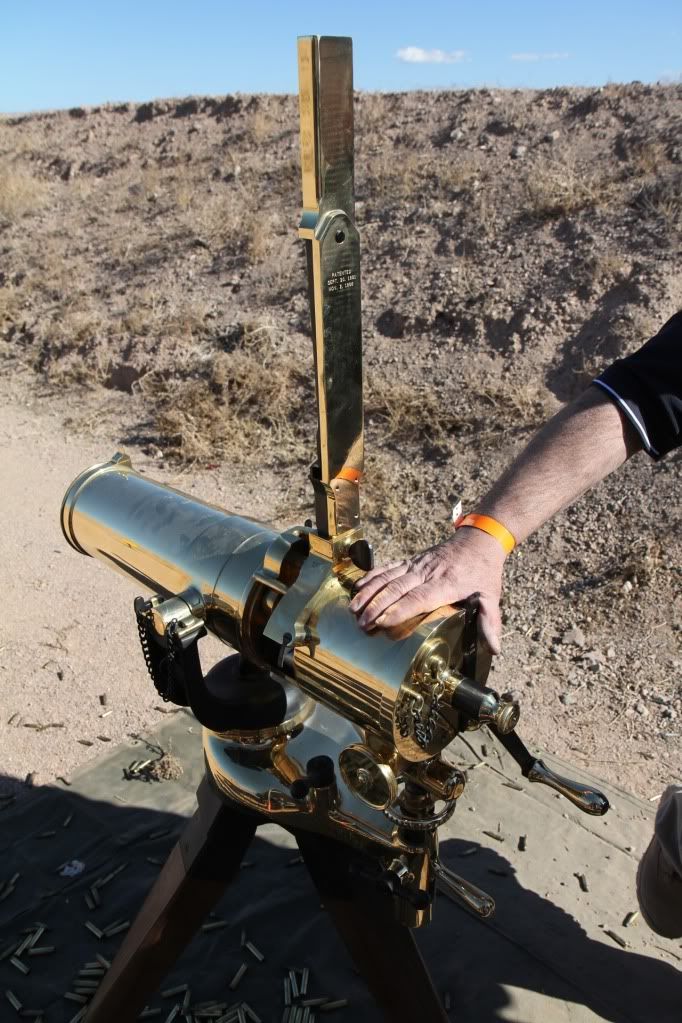 Axis and azimuth adjustment. Just like Galileo's telescope. Except it's for putting holes in a squad of dudes trying to cross your bridge.
----------------------------------------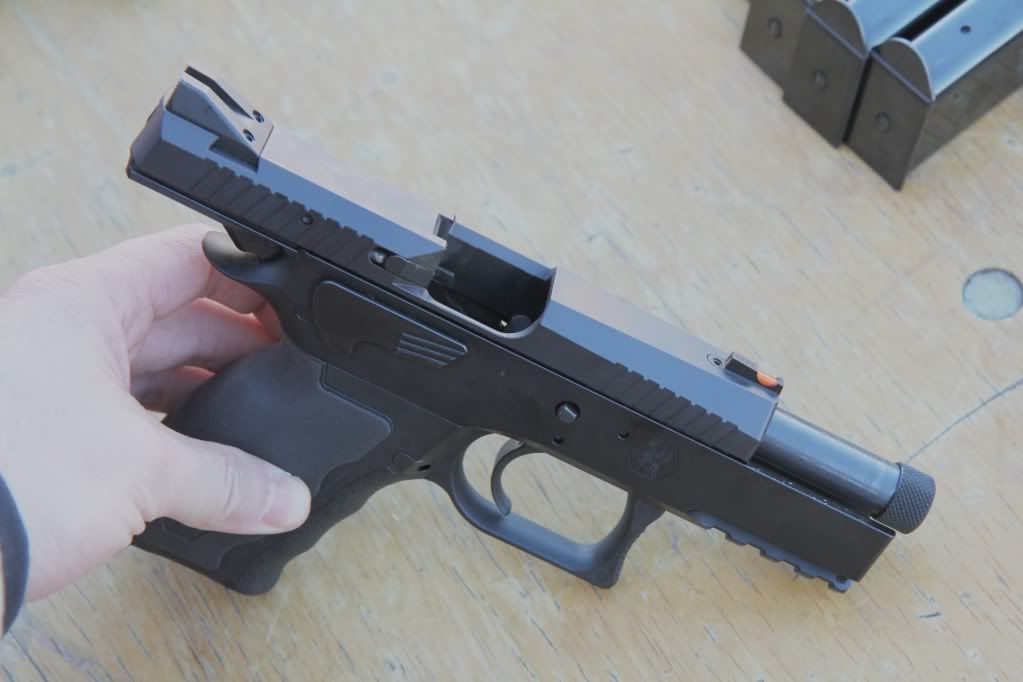 Nice new 9mm pistol by Sphinx. Easily reached controls for safety and trigger connector. Comoulded urethane grips make for a very grippable surface. A rail for a light and a threaded barrel for a silencer.
Suppressed 0.45cal shooting Kriss Vector with a Meprolight reflex optic. I gotta admit, shooting the stubby unsilenced version with a 30rnd mag on full auto is a lot more fun. Without a suppressor you get a well balanced compensator and none of the heat issues caused by having a suppressor which kind of limits you to semi.
----------------------------------------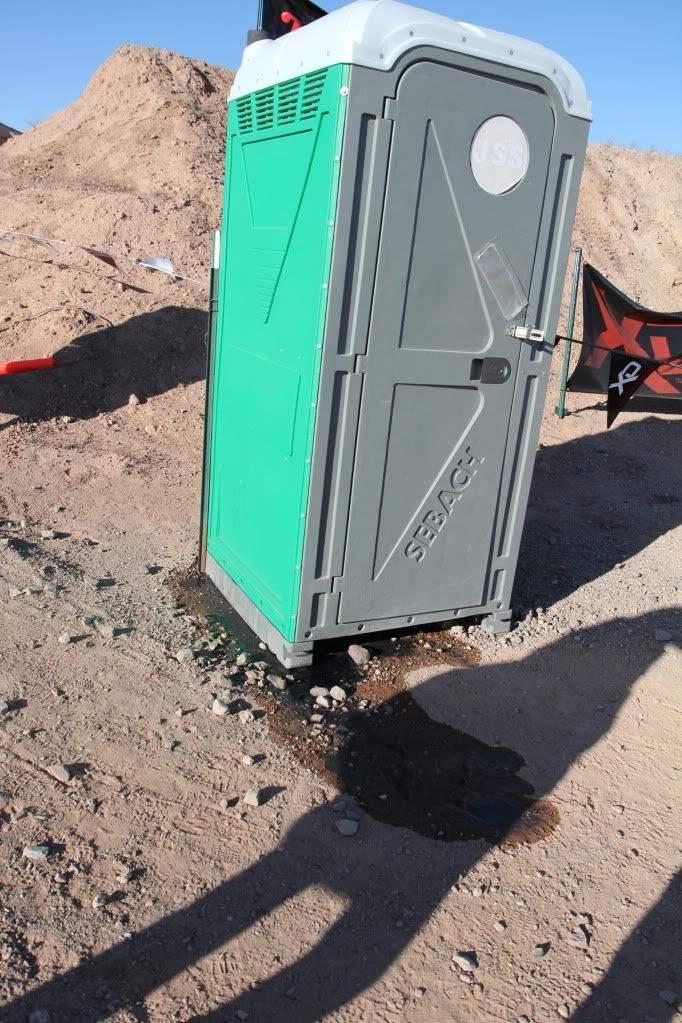 Something terribly wrong with Dr. Who's TARDIS.
----------------------------------------
Three variants of Turkish Akdal MKA1919 12Ga shotguns built on an Armalite layout. Huge honkin mag wells that make you feel like you're loading anti aircraft rounds. Some of these shotties were tricked out with compensators for 3 gun competition shooting. Very cushy recoil on these shotguns.
----------------------------------------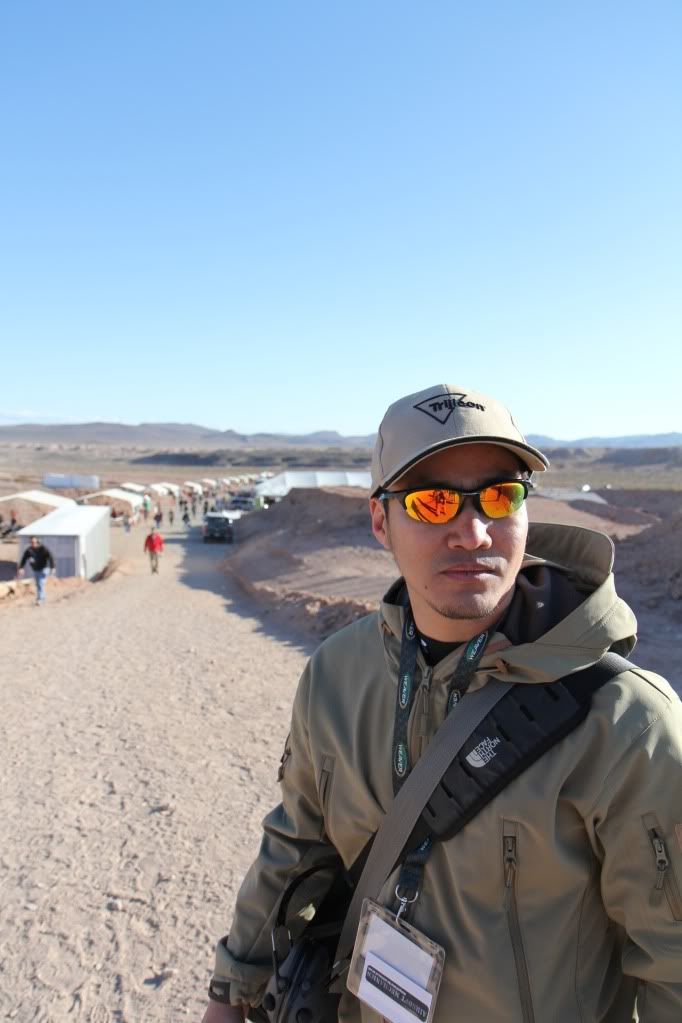 Shit just got real. I CAN'T TELL WHO'S BRAND I'M PROMOTING contractor dude Tirador wearing a Trijicon hat, North Face bag, Oakley glasses on the range. It's hard to get a sense of size to this place in photos. You can play depth of focus tricks, but they still don't convey the sense of immenseness you get walking the whole thing back and forth until your legs give out and you go woozy from having earplugs in your head the whole day.
Some sketchy dudes from ASC inputting 1000yd into their Iphone range calculators. How do you convert from yd to metric?
-------------------------
Mr. 762 at HK's display. A very smooth shooting NATO 7.62 rifle with a very schnazzy Schmidt und Bender optic. Total overkill shooting steels at a mere 100yd benched. I tried shooting standing offhand, but the platform is too heavy for my puny 140lb frame. Stop! Or I'll get tired and shoot your nutsack! Still, a very smooth shooting rifle. I am of the inclination that a well tuned rifle disappears into the background and shoots rounds downrange accurately, naturally as an extension of your homicidal psyche. No extra clicking, english, or gratuitous cuckoo clocks or other fanfare. This rifle is just that. Except 7.62 NATO is a pretty serious assault rifle round. Your target does all the extra special exciting stuff when you hit it.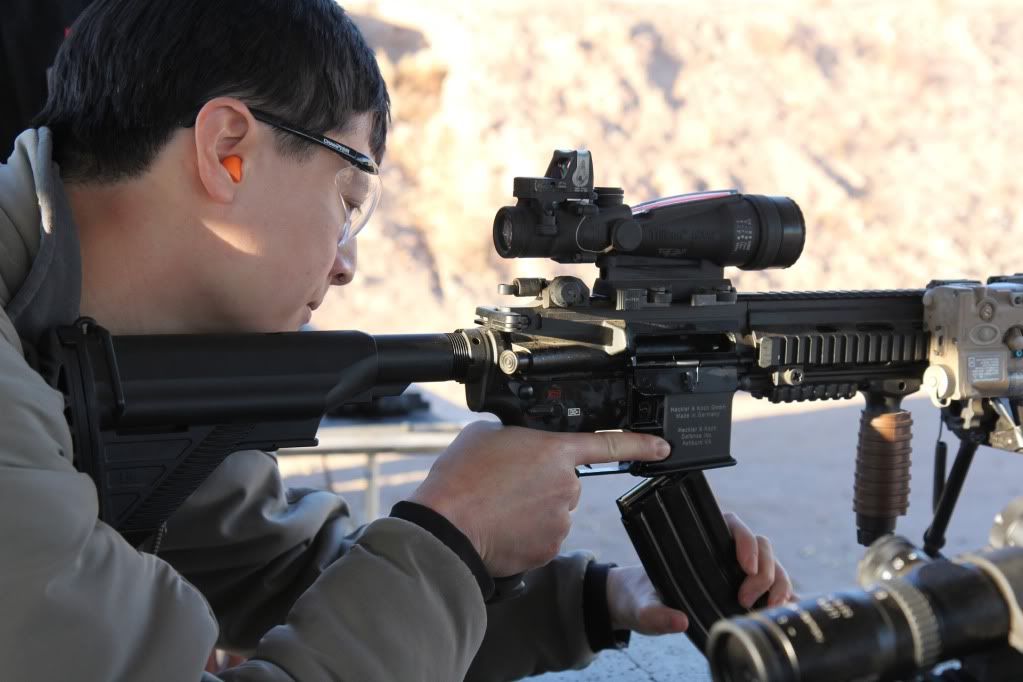 --------------------------
Awesome replica of an airsoft Mateba in Chiappa's 0.40S&W Rhino. Finally a replica of an airsoft gun which is not a replica firearm. I always take the opportunity to shoot the Rhino. The barrel fires from the bottom chamber of the carousel instead of the top. This greatly reduces muzzle flip because the barrel axis is pretty much in line with the crook of your thumb and forefinger instead of being over an inch higher. I'm not crazy about their heavy triggers, but the recoil is very straight back and not very flippy. One downside is that the low barrel axis puts the hot jet powder residue from the carousel-barrel interface closer to your hands. Pointing the thumb of your weak hand forwards puts it in this stinging scorch plane so you have to get used to curling it downwards instead.
--------------------------
More pictures to follow when I get around to them.