Ah. Resident Evil. Where would we be without the you teaching us how to ward zombies off while trying to solve an overtly complicated (and stupid) puzzle just to get a damn door open?
My favorite has always and will always be REsident Evil 2. Those pixelated faces were the tits! AAADDDDDDDDAAAAAA!!!!!
Anyways, this is a build that I really did not want to do. In fact, I built this gun for someone else. Cost me an arm and a leg to do so. So when it came time to bill the customer for gun doc work and parts, surprise surprise he was nowhere to be found. Now I'm out millions of dollaz because of this stupid build....
So, until he shows up, this gun reluctantly mine. Fuck.
This is my take on Tokyo Marui's Sentinel Nine...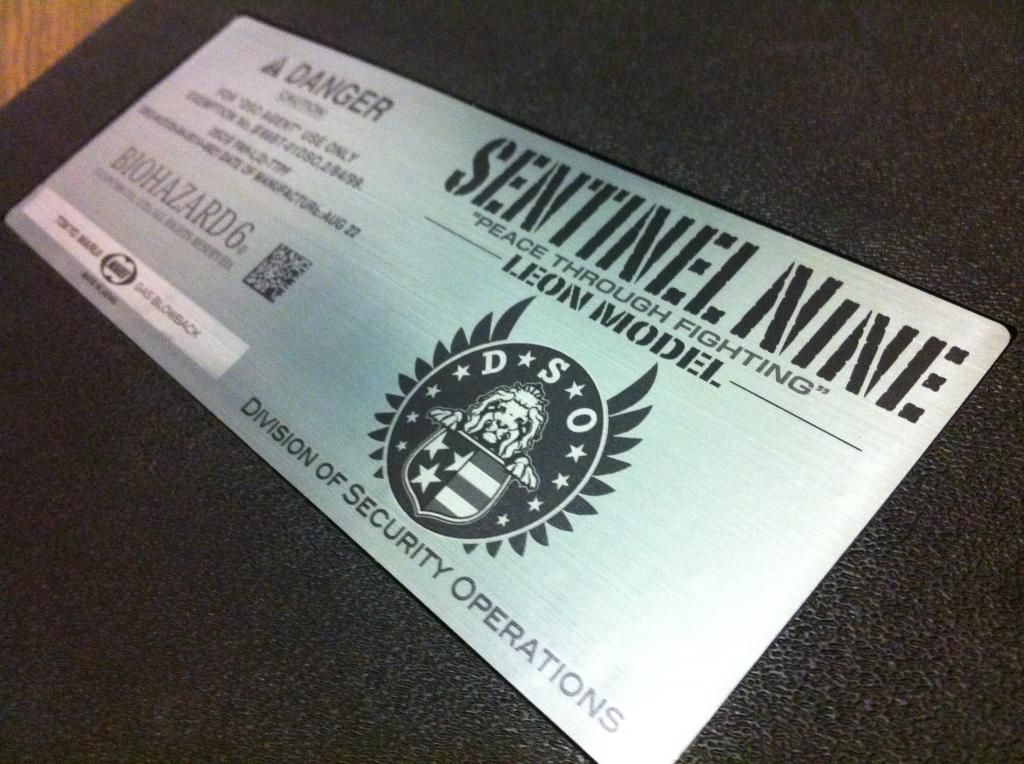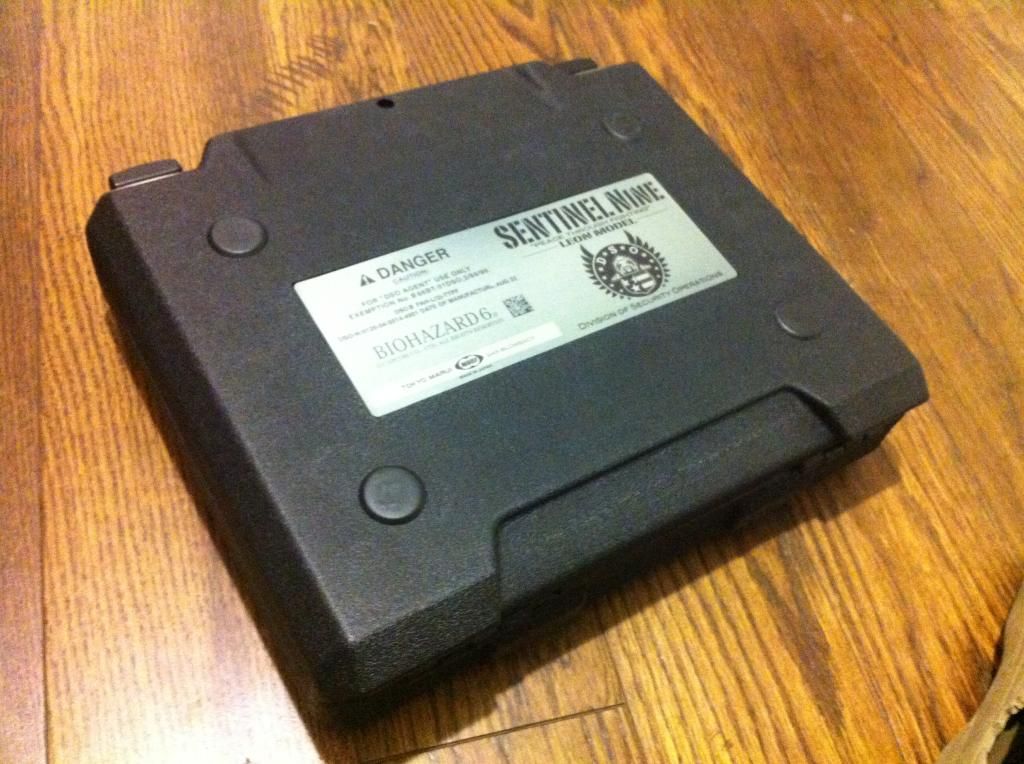 Let's see what's inside...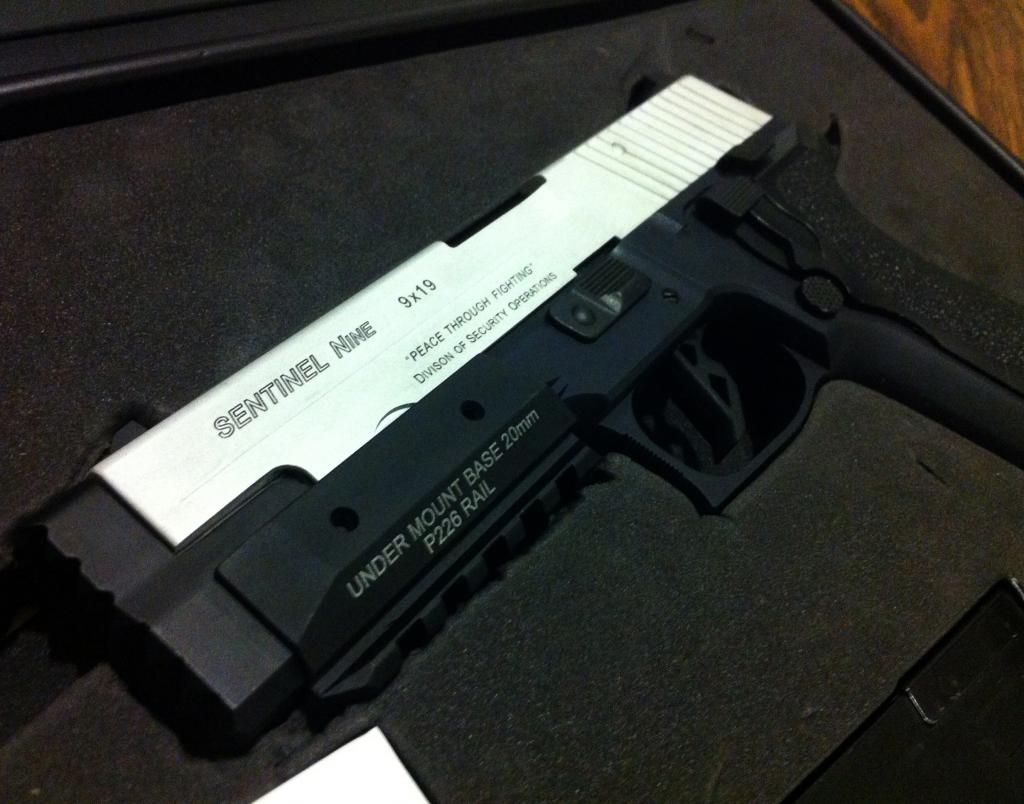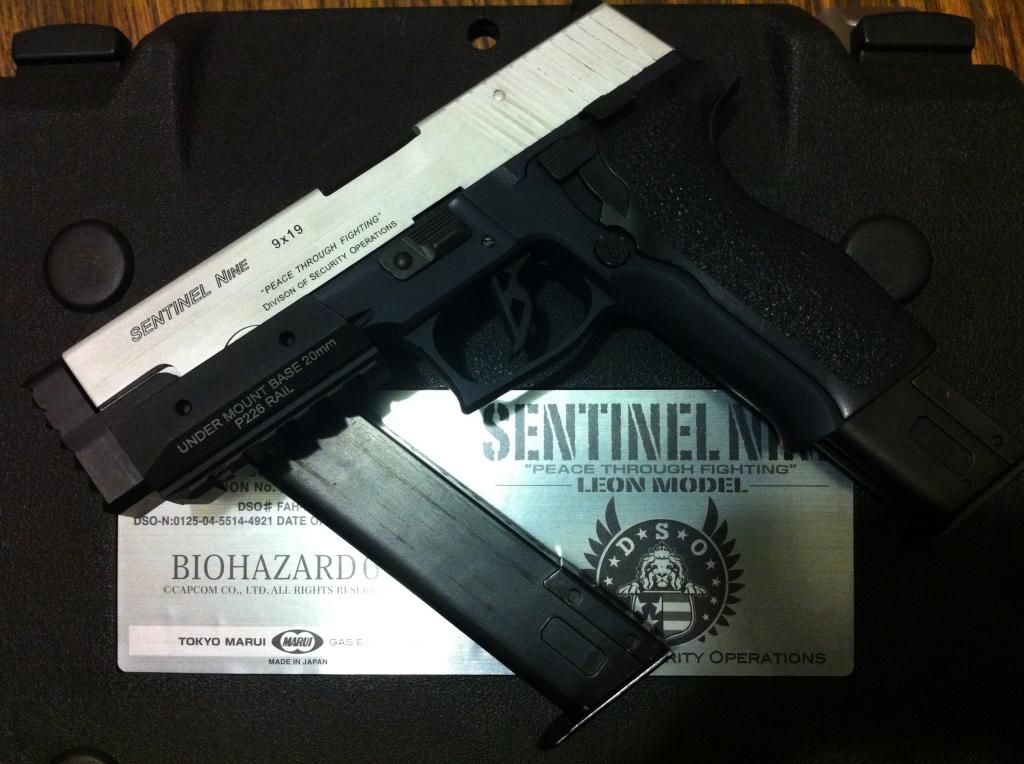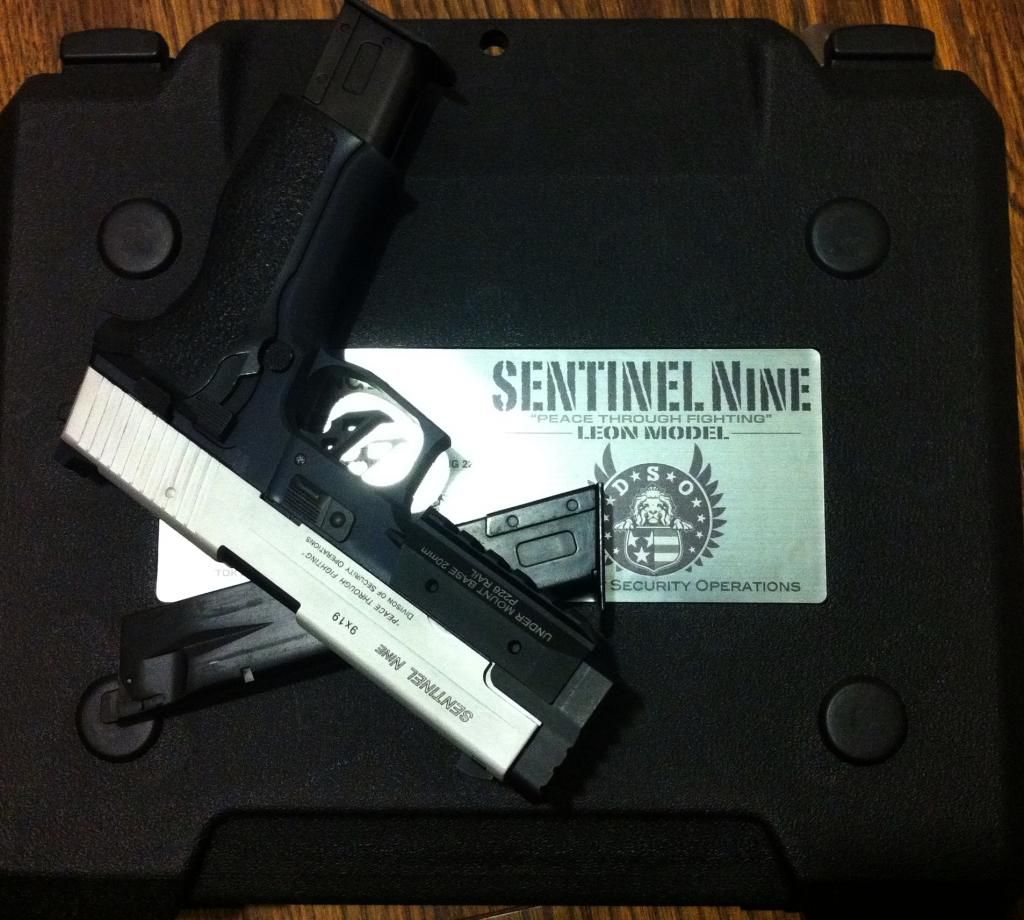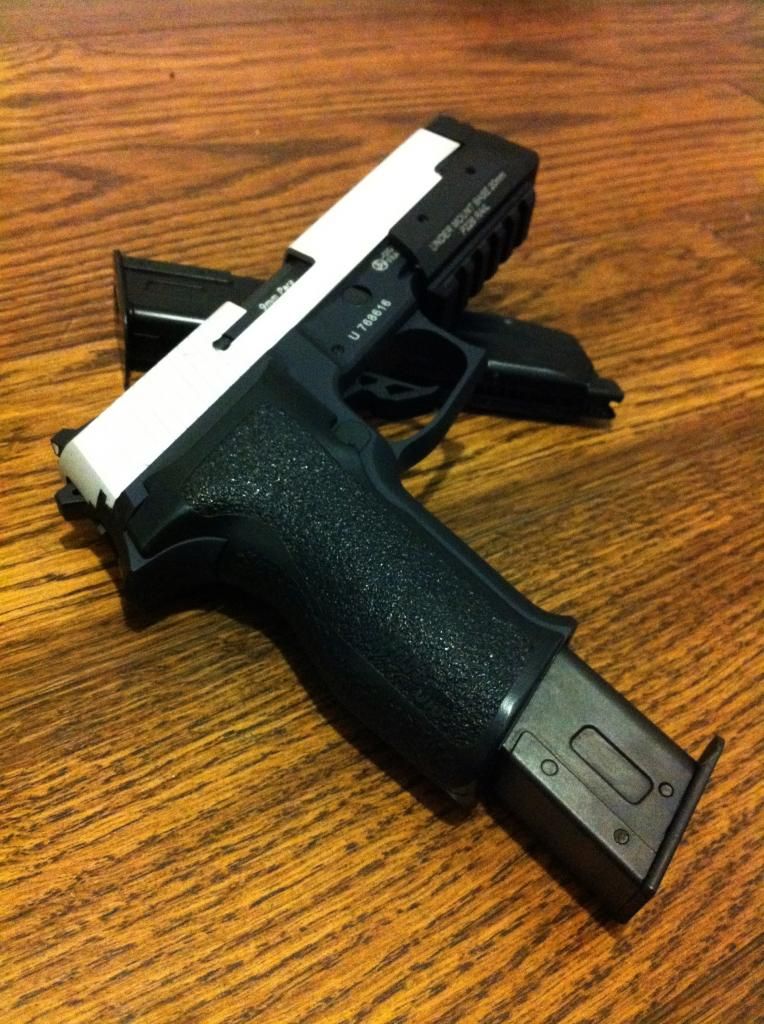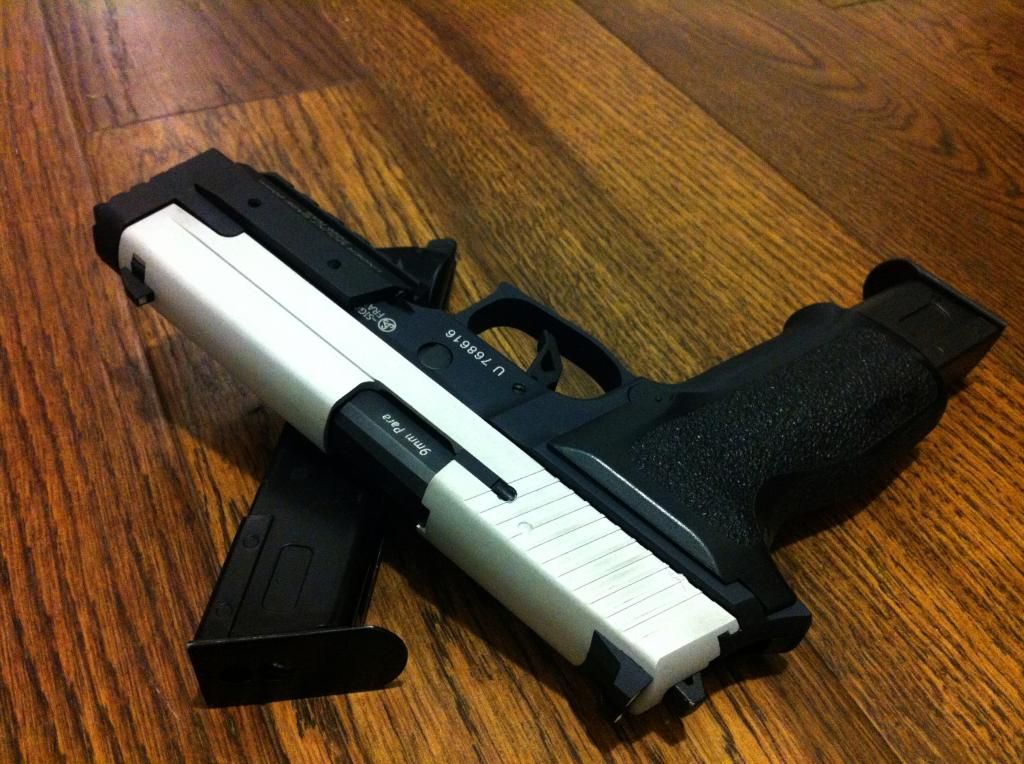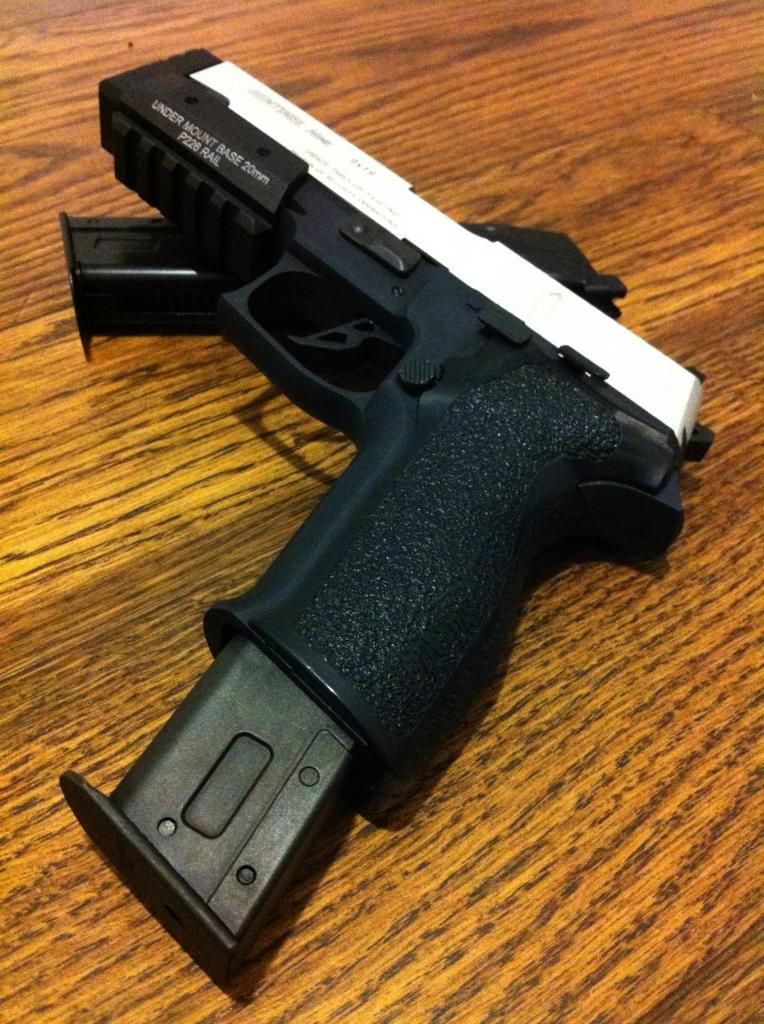 As you can tell, this not same Sentinel Nine as described on the box. This was intentional as I felt that the original design was a bit...overwhelming. It was overtly over done, IMO.
So as a design choice I scaled the "bling" down in favor of a more sleek color scheme which gave the gun a bit more class. A choice to switch the grips to real P226 grips was made because the DSO grips were unimaginative and uncomfortable.
Yes, i took away what made the Sentinel Nine a Sentinel Nine. Yes, it's just an ordinary E2. but the feel and look of the gun outweighs these "distinctive features".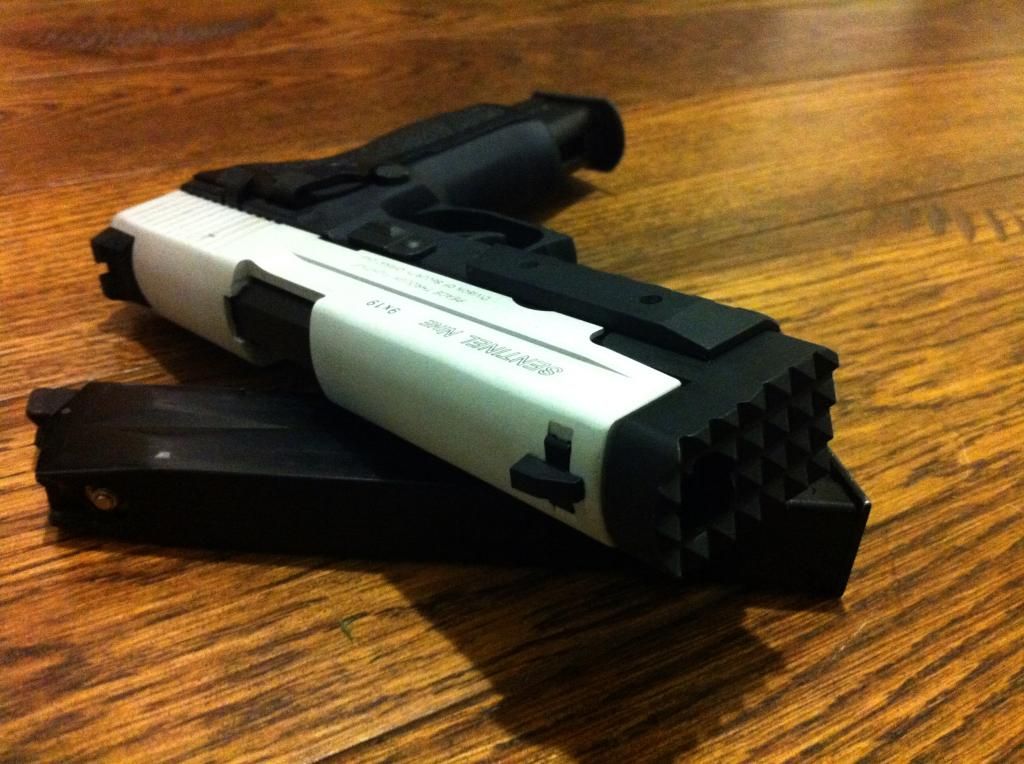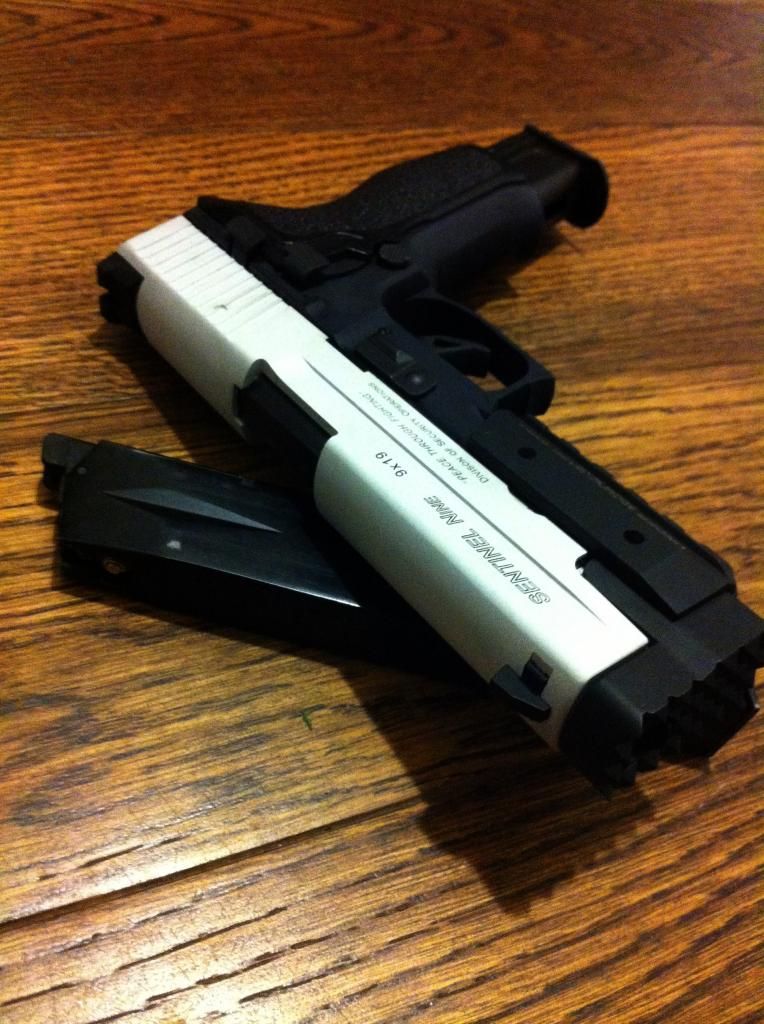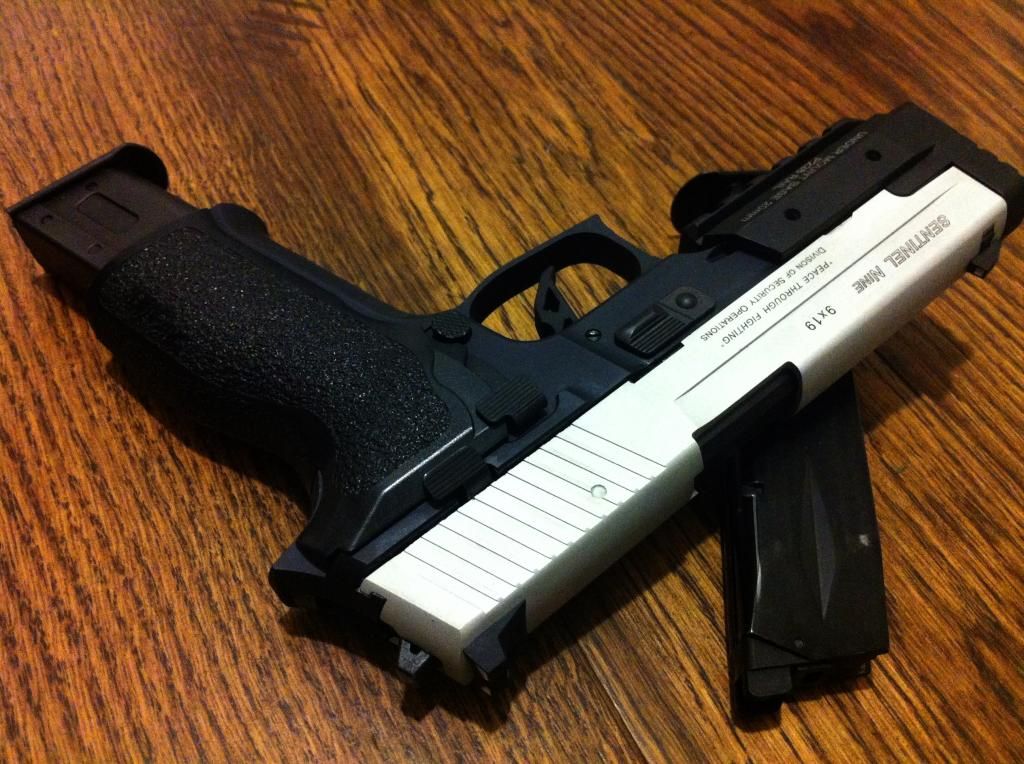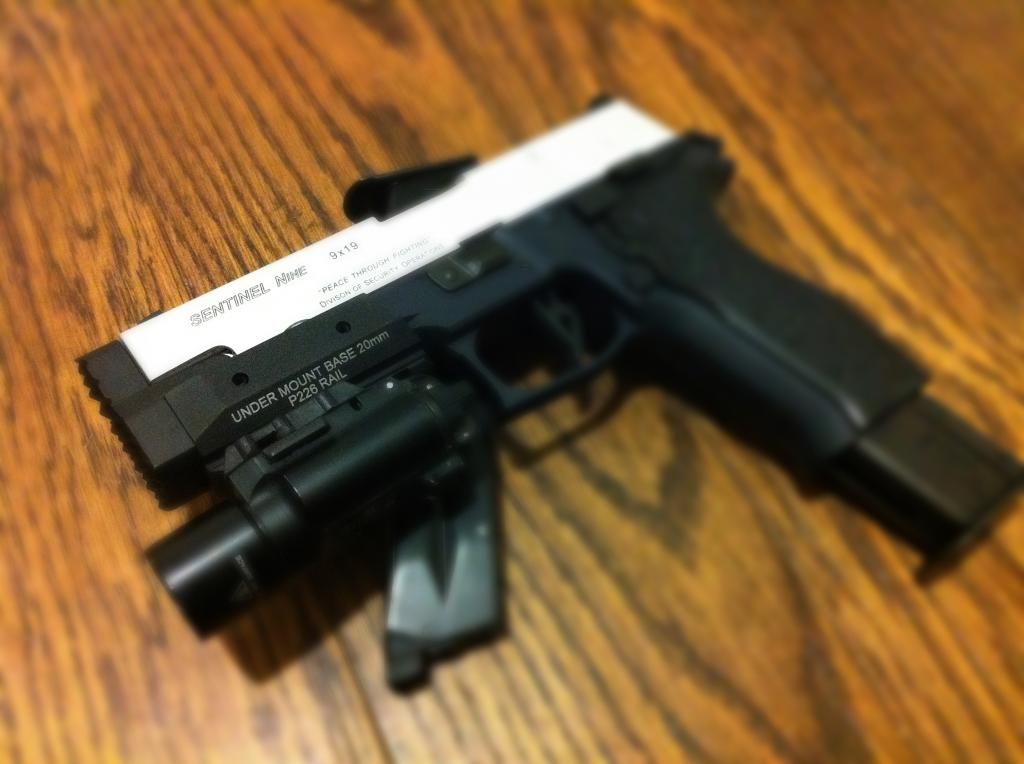 Everything on this gun has been turned to metal. Even the loading muzzle.
The body, slide and outerbarrel are aluminum.
THe grips are real steal P226 E2 grip. The OEM grips are crap and provide no real grip registration. The Real E2 grips are much more aggressive and abrasive making it easier to grip the pistol and maintain said grip.
If there is one thing to complain about with the metal kit, it's that pins tolenerances are quite loose. The hammer mech pins were super loose.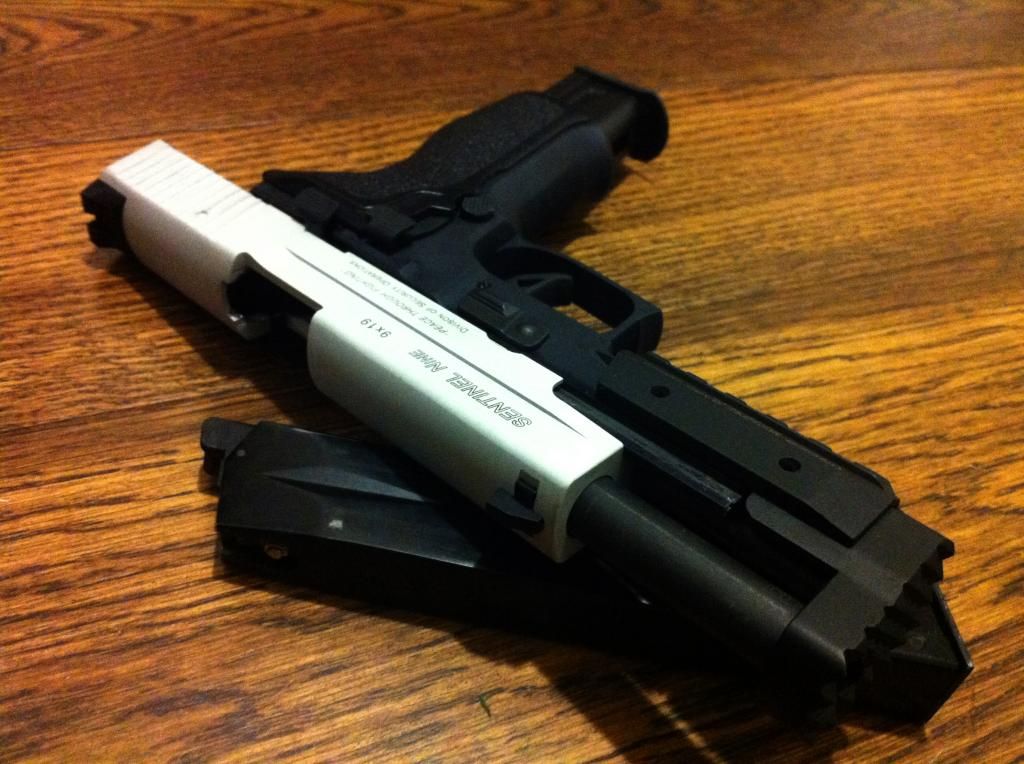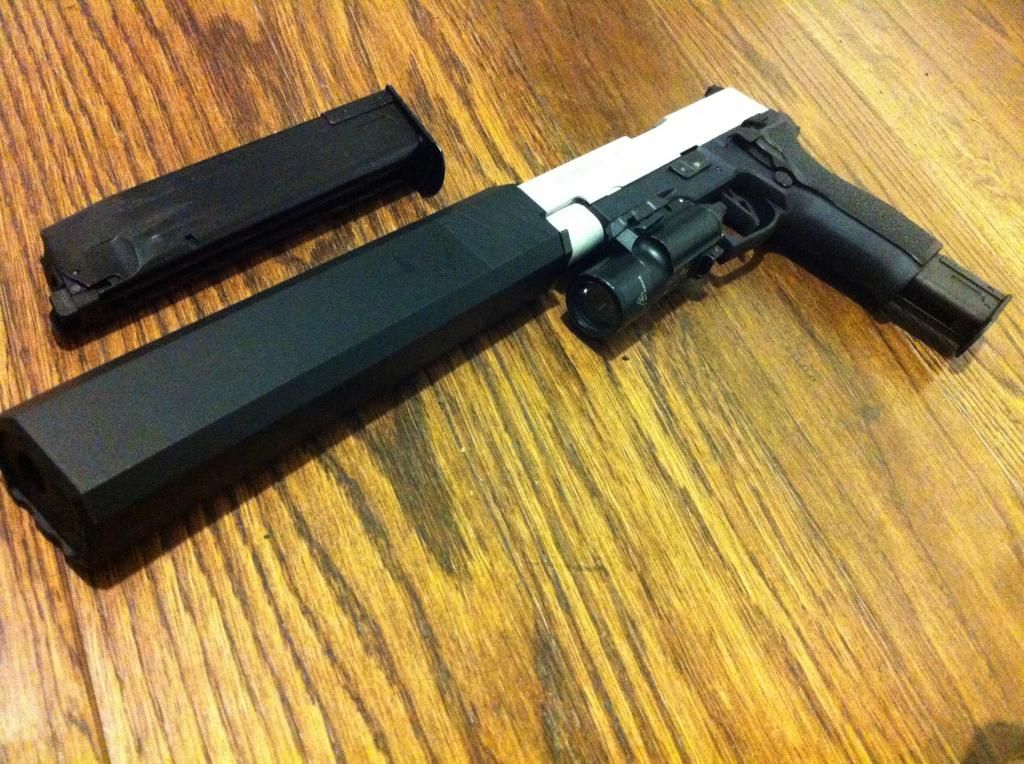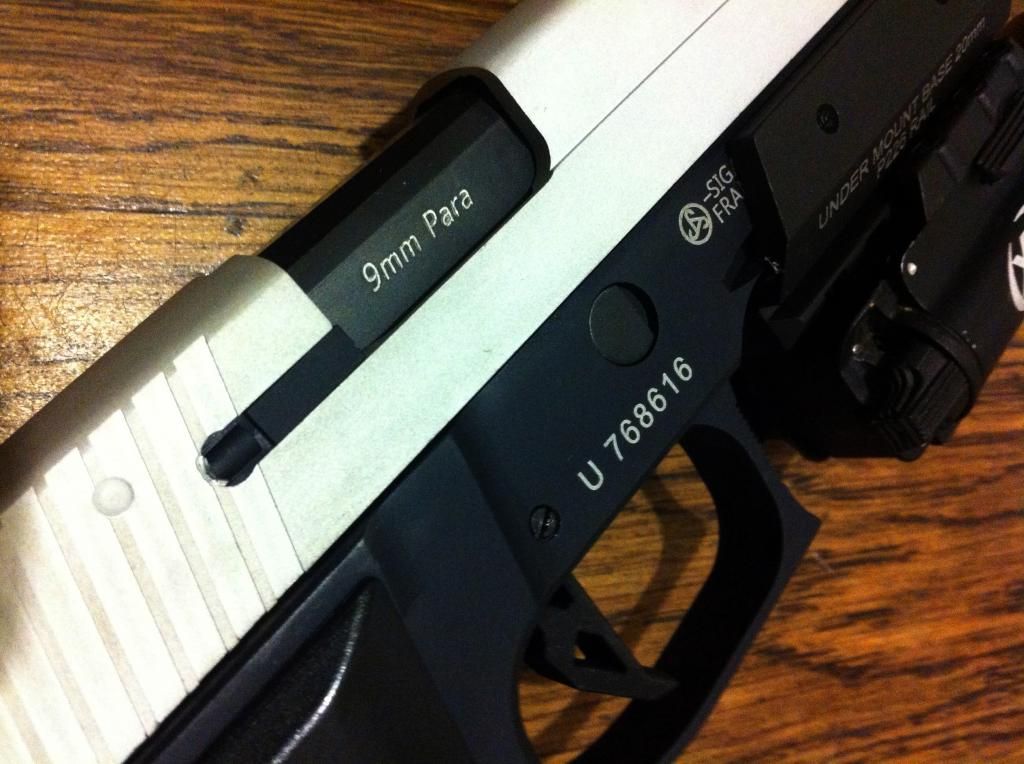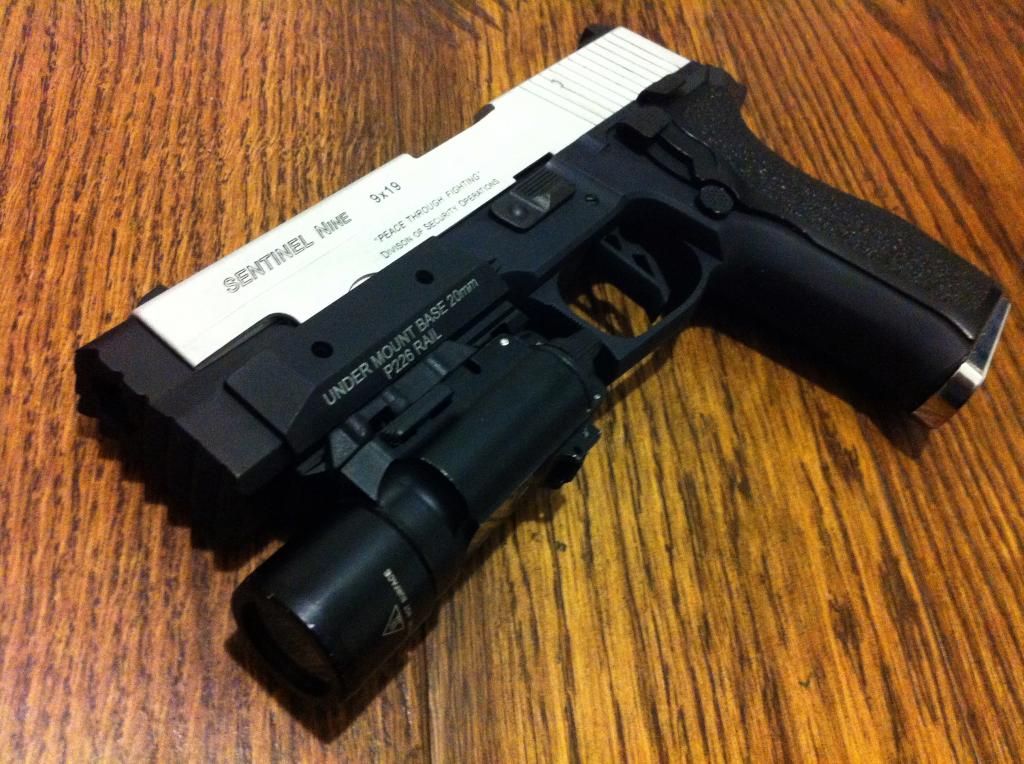 A stupid flash hider was attached to the barrel initially but I had a "proper" zombie killer face smasher from my other P226 E2 to attach. For now, this gun can borrow it.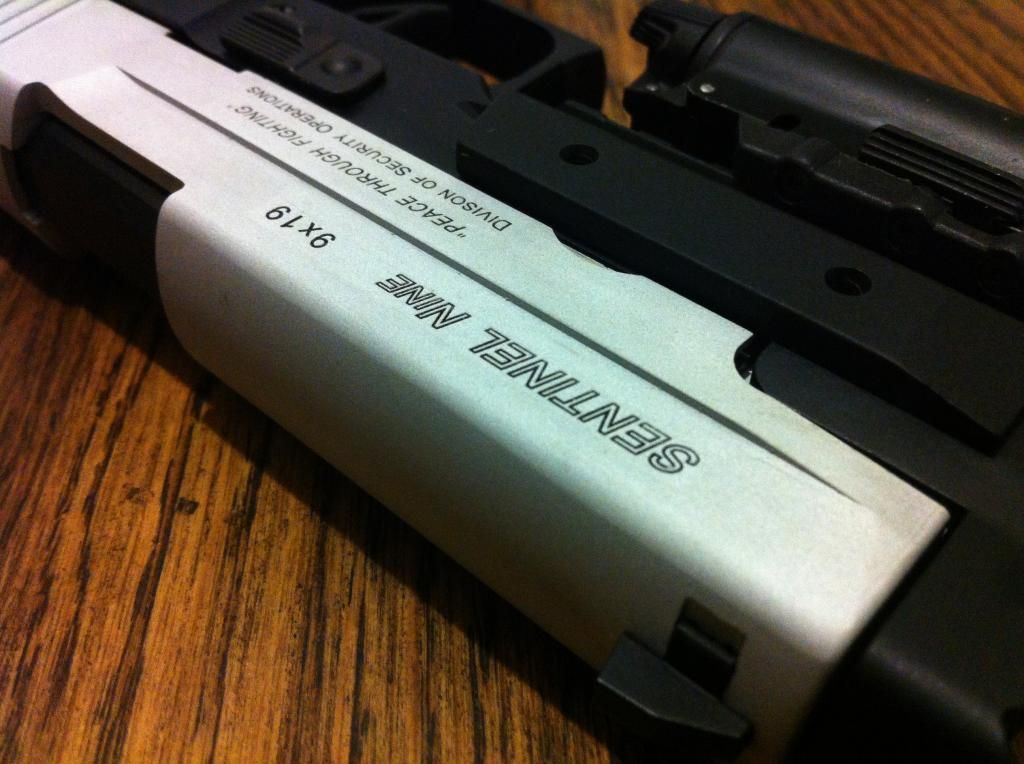 The trades on this kit was painted with black paint to bring it out a bit and make it pop. Looks good.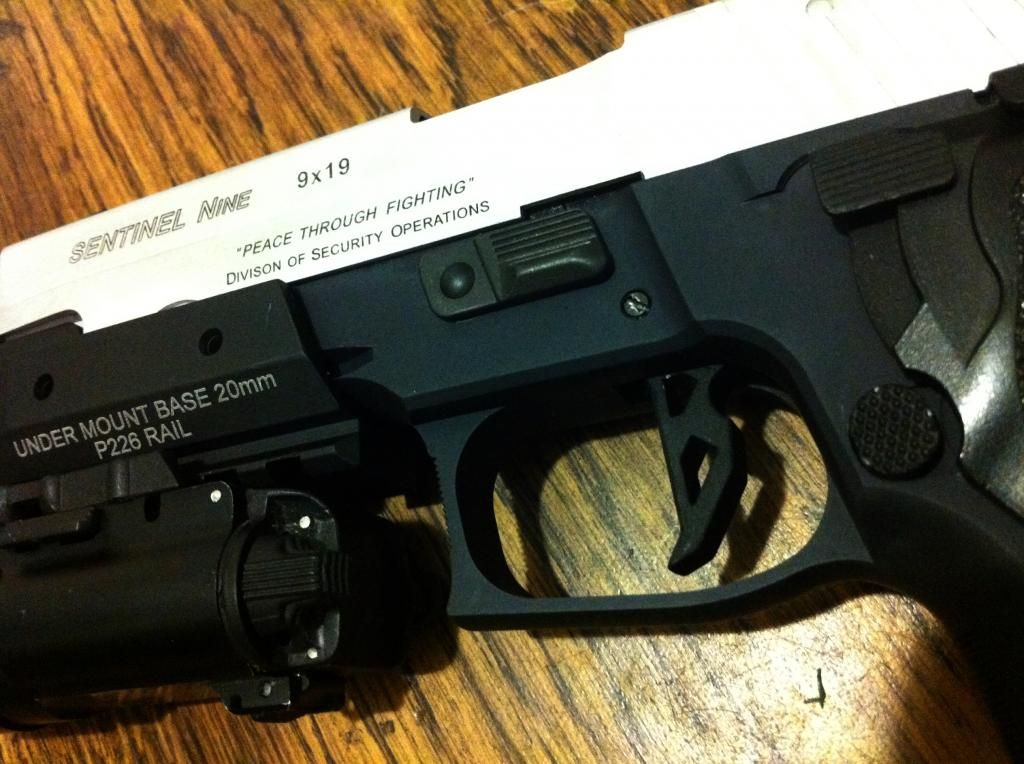 All of the silver components were dialed down in their blinginess. Some parts were swapped out with black ones while some were painted.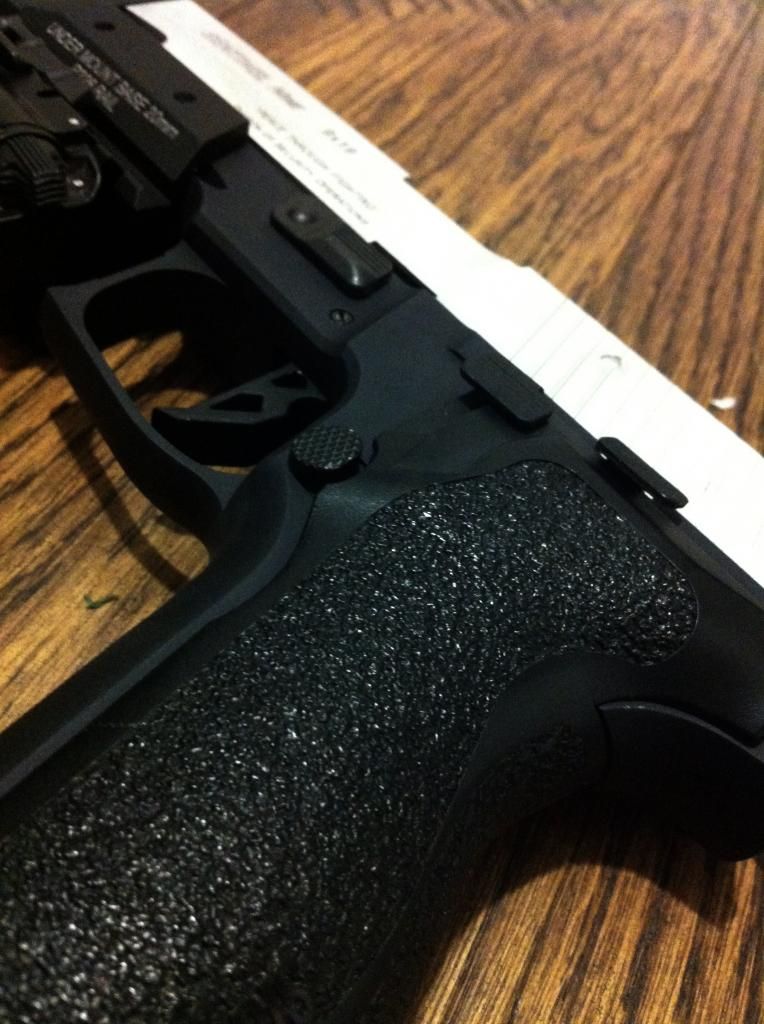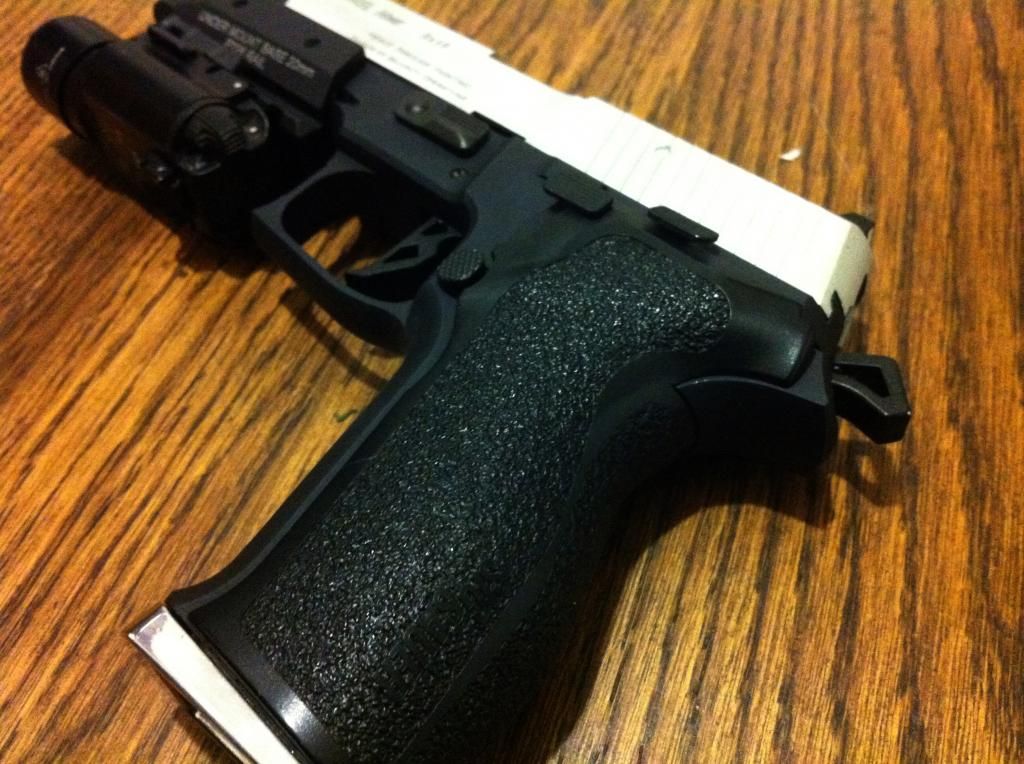 THe parts kit:
-Shooter's Design Metal Body Kit For Marui P226 Sentinel Nine
-Shooter's Design Front and rear sight
-WII Tech aluminum loading muzzle w/ high output floating valve
-WII Tech enhanced piston head
-Shooter's Design Takedown lever
-Airsoft Surgeon Non-hop inner barrel kit
-Guarder steel decocking lever
-Guarder slide catch
-Guarder magazine catch
-Guarder Steel recoil spring guide
-Proud Enhanced hammer spring
-Proud Enhanced recoil spring
-Real Steal Sig Sauer P226 E2 grip conversion kit
-Real Steal hammer strut
-Dirty Leopard P226 Strike Kit
-Nineball High output magazine valve
THe gun chonies at 340FPS - 350FPS on .20g BB Bastard and propane.
Many thanks to Turok_T and Akamikeee for all the support. I could not have done it without your help.
Turok_T you the best man. I appreciate errthang you've done.
That's all for now.
See you next build, folks!