Leading up to the last milsim I'd been playing around with running items on my belt, generally following the layout posted here already.
I ended up with a hodgepodge of stuff to see how it worked out.
- blackhawk trainers/riggers belt...stiff on it's own, used as an inner
- blackhawk suspenders
- old duty belt (probably uncle mikes)...it has since lost a lot of its stiffness
- 4 keepers + the suspender attachments to keep it attached to the riggers belt...worked so-so, but started to sag by the end of the day.
- serpa + hicapa
- multitool
- rubber knife
- eagle fold up dump pouch
- some sort of large pouch (gas mask pouch I think) that held 5 M4 mags
- jury rigged eagle drop leg dump pouch "box" (boxy pouch with flip lid) for misc items/NV/etc
At times we doffed our chestrigs/packs when we didn't need them. But we had to gear up quick or react at any given moment to whatever came up. We were on comms throughout.
- the rig was a bit heavy and thus became floppy after 20hrs
- did not need so many mags on me...2 spares would have sufficied
- should have had my radio on my first line since I was on comms for the duration
- smaller/dedicated secure pouches would have been better than the one large general purpose box pouch
- I ended up using the box pouch for a dump pouch..didn't need the box pouch AND the little dump pouch
- would have liked to have had a water bottle pouch on it
+ it was nice to be able to doff 2nd/3rd line gear to cool down, take a load off
+ the large boxy GP pouch made it easy to quickly stash NV, radio, odds...but not all that securely
+ dirt cheap since it was cobbled together with leftovers/odds/ends
I've taken a good look at some of the blast/battle belts. Main concern is overloading it and having it be really bulky with a 2nd line.
I think I'm going to try a stiffer setup and pare down the number of mags I keep on it. Looking hard at the ATS warbelt and the CTOMS XP (CP?) belt system. Perhaps the EMDOMS system.
Suspenders are a must for me though.
** Update **
Since that game I've been thinking of setting up a dedicated belt system and took the plunge on that.
Blackhawk (Recon Commando something chest rig...like a RRV)
L-to-R
- top loading admin pouch (snack, pens, misc)
- triple double blackhawk M4 panel
- stacked tacos (2 AK mags)
- stacked tacos (2 AK mags)
- misc mini admin
Blackwater Battle Belt w/ Blackhawk suspenders
L-to-R
* - I'd like to add a pouch/sheath here for a flashlight
- single taco (M4 mag)
- Phantom radio pouch
- rubber knife
- TAG roll up dump pouch
- can't remember what make frag pouch...holds 1st aid/boo-boo kit
- 1911 serpa + modded Hicapa 5.1
- Eagle double M4 pouch...just put it on trying something out, might not stay or may keep for smoke/frag
- Phantom frag pouch
- Leatherman wave...sort of tucked out of view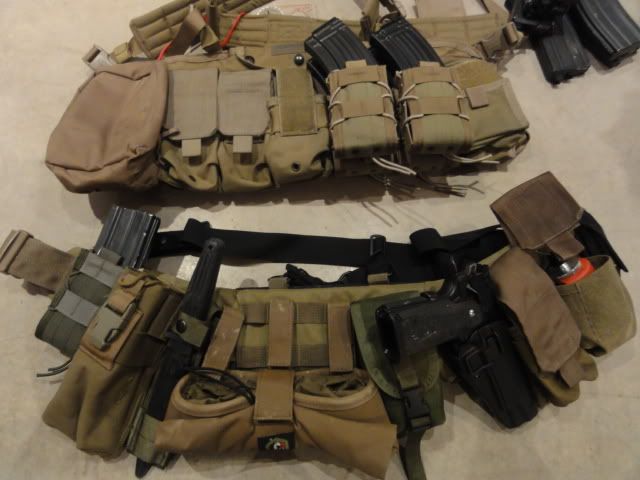 I've got HSGI suspenders coming in...and I'll see if those work as well or better than the ones I'm using now. The belt is stable...just enough weight to keep it in place and to let you know it's there. Comfy enough and if I hike up the RRV a bit everything clears nicely...which was my main concern with setting up such a belt. The only downside is that the current suspenders are sized to go to a regular belt...and hiked up enough for the battle belt it puts the sliders right up at the shoulders, which I suspect will cause pressure points with rigs/packs/hydration on it.